Virginia Latino Advisory Board Members
The Board shall consist of 21 non-legislative members, at least 15 of whom shall be of Latino descent. They shall be appointed by the Governor and serve at his/her pleasure. In addition, the Secretaries of the Commonwealth, Commerce and Trade, Education, Health and Human Resources, Public Safety & Homeland Security, and Transportation, or their designees, shall serve as ex-officio members without voting privileges. All members shall be residents of the Commonwealth.
To the right is a list of current Board members. (Updated March 2018)
---
COMMITTEE DESCRIPTIONS
Education and Workforce Development
The VLAB Education and Workforce Development Committee examines the importance of education and workforce development in supporting Latino communities across Virginia. By working with K-12 systems, higher education, and workforce development agencies in all regions of the Commonwealth, the committee works to promote greater educational attainment and equity, and stronger pathways to economic opportunity.
Chair: Eugene Chigna
Members: Aida Pacheco, Mercedes Santos-Bell, Gloria Rockhold, Vivian Sanchez Jones, Juan Espinoza, Karina Kline-Gabel

Business
The VLAB Business Committee examines the role of Latino businesses in the Virginia economy and considers ways to increase the economic prosperity of Latinos in the workforce. The Committee works with Latino business owners and leaders across the state to help Latino-owned or Latino-focused businesses grow, and works to promote the importance and influence of Latinos as consumers and business leaders.
Chair: Jorge Yinat
Members: Estuardo V. Rodriguez, Ana Solorio, and Chris Falcon
Healthcare
The VLAB Healthcare Committee examines the health of Latino communities across Virginia and works to craft recommendations and policies that are sensitive to the needs and concerns of those communities. By working with health providers, and federal, state, and local partners, the committee promotes policies and practices that address the need to increase the numbers of insured Latinos and to encourage preventive health.
Chair: J. Michael Martinez de Andino
Members: Cecilia Barbosa, Sergio Rimola, Mercedes Santos-Bell, Cecilia Williams

Civic Engagement
The VLAB Civic Engagement Committee examines strategies for strengthening relationships between Latino communities and all Virginians. The committee promotes practices that are central to civic participation, including voting and voter registration, leadership, and service on state boards and commissions. The committee also works with community partners to improve communication among Latino communities and state government and to raise awareness about issues of importance to Latino communities.
Chair: Diana Vall-llobera
Members: Julio Cesar Idrobo, Louisa Meruvia, Carolina Espinal, Zuraya Tapia-Hadley
Aida Pacheco
Aida Pacheco graduated from Princeton University in 1977 with a degree in Sociology, a teacher certification for secondary education, and received a program certificate in Latin American Studies.
Currently, as a Program Administration Specialist for the Virginia Community College System, Workforce Development Services, Ms. Pacheco manages various grant initiatives and provides strategic leadership and policy direction to program sites. She also works with various groups and organizations toward the development of policies that address the needs of sub-populations who face multiple challenges to employment.
In addition to serving as Vice-President of the Governor's Latino Advisory Board, she is Vice-President of the Association of Latino Princeton Alumni (ALPA); serves on the Virginia Hispanic Chamber of Commerce Foundation Board; and the American Civil Liberties Union of VA. She is also a member of the Princeton Alumni Association and the Virginia Latino Higher Education Network; and volunteers in various initiatives with a focus on civic engagement and voter registration.
---
Ana Solorio
Ana Solorio was born in Northern California to parents from Michoacán, Mexico. She and her family moved to Missouri in her late childhood. Ana graduated from Washington University in St. Louis, where she was a Rodriguez and McLeod Scholar, with a degree in Chemical Engineering. Prior to moving to Richmond, Ana was awarded a grant from the National Institute of Health to conduct research at the Federal University of Santa Catarina, Brazil. She also accepted an internship as a Research and Development Process Engineer for DuPont Nutrition and Health.
Ana relocated to Richmond in 2015 and held several manufacturing technology engineering positions in DuPont Tyvek®. Currently, Ana is the Growth Process Leader in the Strategy, Growth, & Ventures team of DuPont's Safety and Construction business. She is the Chair of the Hispanic Network employee resource group and active in the organization's community giving initiatives. In addition to the Virginia Latino Advisory Board, she serves as the Secretary of the Sacred Heart Center Board of Directors. During Ana's free time, she enjoys being engaged in her community while volunteering with Sacred Heart Center's programs, tutoring, or mentoring youth.
---
Carolina Espinal
Carolina is a public affairs strategist with the Brunswick Group, a global advisory firm specializing in critical issues and corporate relations. She has more than 10 years of political and advocacy experience including an expertise in reaching diverse constituency groups at the local, state and national levels and focuses on building strategic relationships between the private sector, media, government, think tanks and third party advocacy organizations.
Prior to joining Brunswick, Carolina worked at the intersection of policy and politics on successful presidential, senate, state house, city council, school board and nonpartisan public education campaigns. In the public sector, Carolina facilitated coalition-building and advised on program development with leading advocacy organizations including the NAACP, the National Council of La Raza, the Bipartisan Policy Center, and the Children's Defense Fund.
Carolina is an alumna of the Sorensen Political Leaders Program and currently serves as the Vice Chair of the Shirlington Employment and Education Center (SEEC) based in Arlington.
Carolina has a B.A. in Foreign Affairs from the University of Virginia and an Ed.M in Administration, Planning and Social Policy from Harvard University.
---
Cecilia Barbosa
Cecilia E. Barbosa, PhD, MPH, MCP is principal and owner, cBe consulting and Lexxor, LLC. She received a PhD in social and behavioral health from Virginia Commonwealth University (VCU) in December 2014. She has worked for over 20 years in maternal and child health in Virginia, including several years as an independent consultant, as Director, Division of Child and Adolescent Health,Virginia Department of Health, and as Executive Director, Virginia Public Health Association. She received Master of Public Health and Master of City Planning degrees from the University of California at Berkeley and a BA degree in Biology from Smith College. In addition to the Virginia Latino Advisory Board, she serves on the Boards of the World Pediatric Project and Dancing Classrooms of Greater Richmond, the Virginia Department of Health Institutional Review Board, and the Mayor of Richmond's Breastfeeding Taskforce. She helped organize a VCU – University of Sao Paulo scientific collaboration and an event to promote Brazilian culture and trade in Virginia, and served on the Board of the Virginia Center for Latin American Art and the planning committee of the Latino Health Summit (2006). A citizen of Brazil and USA, she is fluent in Portuguese, Spanish, and French.
---
Cecilia Williams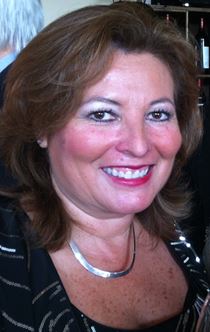 Cecilia is originally from Cuzco, Peru. She has lived in the United States for 29 years. She earned a BA in Journalism and Social Communication with a minor in Political Sciences at the University of San Marcos in Lima, Peru as well as a BS in Biology and Sciences, and M.Ed. at the University of Alaska, Anchorage. She is fluent in Spanish, English, and Quechua, and knows basic Portuguese and Italian. She is a certified language interpreter.
She taught Spanish at Saint Elizabeth Ann Setton in Anchorage, Alaska, worked as a language interpreter in the Alaska Court System and taught at Fairfax County Public Schools as a Spanish, Science, and Special Education Instructor. She is currently working as a Spanish Professor at Northern Virginia Community College.
She volunteers helping students teaching English as a Second Language at Saint John Newman Catholic Church and Fairfax County Public Libraries.
She also volunteers as an interpreter with non-profit immigration organizations to support DACA, DAPA, and US citizenship test preparation.

She volunteered for Boy Scouts of America, the Parent Resource Center for children with disabilities, as PTA Vice President, assistant coach at Chantilly Youth Association, and at Reston Little League. Franklin Farm Home owners association, and US Special Olympics.
She also volunteered for the 2000 and 2010 US Census, American Organization to Prevent Suicide, Northern Virginia Dental Society, Peruvian Chamber of Commerce and Peruvian Embassy and the Affordable Care Act. She drives senior citizens to their polling place in every election.
She loves to travel and had visited over 41 countries.
Cecilia always says that it is an honor to be a part of a selected group of professionals from across the state of Virginia who share a passion and commitment to help our community by advising the Governor on matters that impact the Hispanic Community!
---
Christopher J. Falcon
Chris Falcon grew up in Falls Church, Virginia and graduated from W.T. Woodson High School in Fairfax. He received his bachelor's degree in Business Administration from James Madison University in 2003. He went on to graduate from the Widener University School of Law in 2007, and is admitted to the Virginia State Bar, and the U.S. District Court for the Eastern District of Virginia.
Chris is a practicing attorney specializing in business and estate planning. He is the owner of The Falcon Firm, PLLC, and a deputy clerk and supervisor with the Arlington Circuit Court Clerk's Office.
In his spare time, Chris volunteers as a basketball coach, youth mentor, speaker, and community organizer. He is currently vice chair of the Virginia Latino Advisory Board
---
Diana C. Vall-llobera
Diana C. Vall-llobera was born and raised in San Juan, Puerto Rico. She graduated from Princeton University with a degree in Comparative Literature. She worked as an ESL teacher for three years before working in Governor McAuliffe's Administration as the Executive Assistant for the Office of the Secretary of Public Safety and Homeland Security. Currently, Diana is a student at the University of Virginia School of Law. She is involved with her community through various initiatives, including the Migrant Farmer Project, which performs outreach to migrant farmers to protect workers' rights.
---
Estuardo V. Rodriguez, Jr.
Estuardo Rodriguez began his professional law career at the U.S. Department of Housing & Urban Development, where he worked as an attorney under Secretary Henry Cisneros and later Secretary Andrew Cuomo.
Estuardo splits his portfolio among a number of non-profit clients, which include the National Hispanic Leadership Agenda (NHLA), TIAA-CREF Institute, the Hispanic Heritage Foundation and corporate clients including Anheuser-Busch, Sprint, Time Warner Cable and Univision.
Es also serves as a Democratic strategist and news commentator. He has appeared on CNN, CNN en Español, NTN 24, Univision and Telemundo. He served the U.S. Department of State as an independent political analyst in Latin America and abroad.
A firm priority, Estuardo serves as the Executive Director of the Friends of the National Museum of the American Latino (FRIENDS), a nonprofit designed to build support for the creation of a Smithsonian National American Latino Museum.
Raised in Washington, D.C., Es received his Bachelor of Arts in Political Science and Philosophy from Barry International Catholic University in Miami, Fl., and his Juris Doctor from St. John's University School of Law in New York City. Estuardo is the Chair of Governor Terry McAuliffe's Virginia Latino Advisory Board, co-founder of the Hispanic Lobbyists Association and member of the Hispanic Bar Association of D.C.
---
Eugene Chigna
Eugene Chigna was born in Los Angeles, California, to Guatemalan immigrants. At age five his family moved to the Falls Church area in Northern Virginia, where he later completed his middle school and high school education in Arlington, Virginia. Eugene began his college career at Hampton University in Hampton, Virginia, and eventually transferred to Virginia Commonwealth University in Richmond, Virginia, where he graduated with Political Science honors.
In 2016 Eugene interned with state Senator Creigh Deeds during the general assembly, became a Governor's Fellow in the summer working with the Secretary of Finance, and interned with the Democratic Richmond Regional Political Director for the 2016 presidential campaign. Eugene currently resides in Richmond, Virginia, where he is active in state and local politics, and volunteers his time as an assistant national volleyball coach in the Northern Virginia area.
---
Gloria Maria Peña Rockhold
Gloria Peña Rockhold is the Community Programs Manager for Albemarle County Public Schools, which serves 13,100 students in 26 schools covering 726 square miles. Her responsibilities include promoting the active engagement of the county's diverse communities in K-12 education as well as ensuring the delivery of high quality educational services to all residents.
Her particular focus is on the Latino community, which is a rapidly growing part of the county's student population. In addition to coordinating Community Programs around the division, she is focused on the high educational attainment of our marginalized students. Including and engaging families in the educational conversation is a consistent component of all programs Gloria is involved in. She is involved in crafting cultural competency professional development workshops for the school division as well as community organizations. In addition, Gloria works closely with diversity resource teachers in each school to develop programs and special events that bring parents into the schools as active participants in their child's education.
In addition to her position with Albemarle County Public Schools, Rockhold is the executive board chair of Creciendo Juntos, a service organization for the Latino community; a board member of the Charlottesville Free Clinic, Habitat for Humanity and the Citizens Action Committee for the Office of the Public Defender.
Prior to her current position, Rockhold served as a multi-cultural mental health counselor at Albemarle High School. She holds a Master's degree in Leadership and Foundations in Education from the University of Virginia and a Master's degree in Multi-Cultural Mental Health Counseling from the American University of Prof. Psychology. She received her Bachelor's degree in Marketing from Louisiana State University. She also is a graduate of Leadership Charlottesville and Sorensen Political Leadership. Rockhold was born in Asuncion, Paraguay and formerly lived in Baton Rouge, Louisiana.
---
J. Michael Martinez de Andino
J. Michael Martinez de Andino is Senior Counsel at the law firm of Hunton & Williams LLP. He was born in Puerto Rico in 1955. Mike later was awarded a four year R.O.T.C. scholarship and attended the University of Virginia. He graduated in 1978 with a B.S. in Aerospace Engineering. After serving seven years as a pilot for the U.S. Navy, he earned an M.B.A. from the College of William and Mary in 1986. He later attended Law School at the University of Kansas and is a registered patent attorney. Mike married his wife, Vivian Fernandez, M.D., and they have four children.
---
Jorge Yinat, Ph.D.
Jorge Yinat, Ph.D., is a Business & Management Consultant as founder of James | Williams | York & Co. He is a Virginia Licensed Property & Casualty Insurance Producer, and a Management Scholar at local Colleges and Universities
Jorge Yinat obtained a Bachelor of Business Administration (BBA) in Management from the University of Puerto Rico. He graduated from the Army Reserve Officer Training Corps (ROTC), Military Sciences program, before receiving his Army Officer's commission as Second Lieutenant. He completed a Master of Science (MSc) degree in Management from Central Michigan University while serving the U.S. Army at Fort McPherson, Georgia. Jorge achieved a Doctorate of Philosophy degree in Organization and Management from Capella University while working as Training Developer at the Army's Training and Doctrine Command at Fort Eustis, Virginia. Jorge Yinat, Ph.D. is now business and management consultant, commercial insurance advisor, and management scholar with extensive and diversified managerial and leadership knowledge, business research expertise as a result of his senior-level military, government, and c-level business exposure worldwide.
Dr. Yinat is engaged in the development of techniques to provide businesses and organizations with analytics and decision making processes to produce efficiencies and sustainable profitability. His passion for business research and analytics, led him to develop a proprietary Work@Vantage® System designed to streamline business operations and to increase organizational performance. His interests include business academia for business owners and entrepreneurs, business risk mitigation programs for small and medium size businesses through commercial-business insurance advisory, and local economic development activities in association with local economic development authorities, business organizations, and chambers of commerce.
---
Juan Espinoza
Juan serves as associate director in the Office of Undergraduate Admissions and director of diversity and access initiatives for Enrollment and Degree Management. He also currently serves as President of the Virginia Latino Higher Education Network (VALHEN). Juan develops new programs and initiatives that better serve underrepresented students as they navigate the offices within Enrollment and Degree Management and also oversees international admissions and recruitment. In addition, he collaborates with other campus offices to ensure the university is recruiting, retaining, and graduating underrepresented students.
In 2014, President Timothy Sands appointed Juan to serve in Virginia Tech's new diversity framework, InclusiveVT, as an inclusion coordinator. The inclusion coordinators serve as university resources by becoming collaborators, liaisons, proactive information seekers, and conduits for the Virginia Tech community.
Espinoza received two bachelor's degrees in political science and public and urban affairs from Virginia Tech. He received a master's degree in corporate and professional communication from Radford University.
---
Julio Cesar Idrobo
Originally from Sevilla Spain, Julio Cesar grew up in South America in a colonial city in Colombia, Popayan, where he graduated as a lawyer from the University of Cauca. He moved to Bogota where he started working as a professional and led an important consulting firm where he developed strategic socio-economical programs with the Colombian government and with local cities throughout the country.
He moved to United States as a refugee in 2002 and soon after his arrival he got involved with the immigrant community in Maryland and Virginia. Through these years in United States he became a real estate agent connected with his community.
His knowledge and experience in housing as a realtor, and his leadership with the community lead him to become the Chair of the Housing Commission in Falls Church City, a small town in the Northern Virginia. His professional life has been dedicated to help the most vulnerable of our society.
---
Karina Kline-Gabel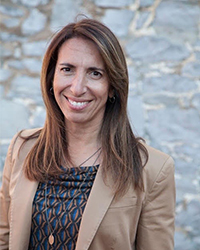 Karina Kline-Gabel has served as a Lecturer of Spanish for the Department of Foreign Languages, Literatures, & Cultures since 2003 at James Madison University. She received her M.A. in Spanish Literature from the University of Virginia and her B.A. in International Affairs and Latin American Studies from JMU. Karina is an active member of the JMU Latin American & Caribbean Studies Committee as the coordinator of the Cultura y Comunidad series for local K12 educators and is the founder and president of the Madison Hispanic Faculty Caucus. A native of Harrisonburg with Colombian heritage, she has served as an advocate for the local Latinx population in Harrisonburg and Rockingham County for the last 20 years. Locally she serves on the board for the Scholars Latino Initiative, The Massanutten Regional Library, and is the founder/director for the Hispanic Film Festival. Karina is also a board member for the state organization, VALHEN (Virginia Latino Higher Education Network) and coordinates the organization's academic lecture series. In 2009 she received the All Together One award for her efforts in student and community engagement.
---
Louisa Meruvia
From La Paz Bolivia, Louisa Meruvia has lived in the Metropolitan Area for more than 50 years.
She went to Bishop Dennis J. O'Connell High School and graduated from American University in Journalism and Communications.
Early in her career she worked as a Community Organizer for the Spanish Speaking Committee of Virginia and Legal Services Corporation.
In 1978, she began working with the Voice of America and then joined the US Information Agency (USIA) where she worked in different capacities until she joined the Foreign Service and went to Bulgaria, Amman Jordan, and El Salvador.
Upon her return she worked at headquarters for several years, until she retired and moved to Bolivia to open a real estate Business representing Century 21. She stayed there 10 years. While in Bolivia, she and her sister opened a Foundation called Centro Boliviano de Filantropia to help young adults 16-26 yrs and create a better living environment for them and their families. She returned to Virginia in 2000 and started working with Virginia Tourism Corporation. An activist within the Latino community encourages and teaches youth to be participants.
She opened Networking Professionals a consulting educational organization that assists businesses in finding its counterpart . Also, under her command is Networking for the Arts Foundation a non profit organization that promotes culture of different countries and teaches people that in a globalized world we help people understand each other. Most recently, on February 2016, Louisa has opened the International Women's Chamber of Commerce based in Fairfax which has had much success.
---
Mercedes Santos-Bell
Mercedes is the co-owner and executive director of Envision Family Services, a community mental health agency dedicated to servicing youth, families, schools and communities. Seeing the need in the community, Mercedes has developed an ongoing passion for advocacy, social justice and equality, and educational reforms with emphasis in mental health and equal opportunities for every single child. Her agency promotes the 3 C's-that every single child should feel Confident, Connected and Cared for in their school setting in order to increase their chances of academic success. Mercedes believes that the 3 C's can be accomplished by training, and reinforcing, teachers to be culturally competent; addressing students' mental health needs; promoting emotional and practical intelligence; and by motivating, assisting and teaching parents to be involved in their children school life.
Originally from Santo Domingo, Dominican Republic, Mercedes spent half of her childhood in Venezuela. Mercedes, along with her two younger cousins, was raised by her grandmother until the age of almost 15 when she relocated to New York City to live with her mother. She received her bachelor's degree in psychology from York College (City University of New York), and her master's degree from Norfolk State University in community and clinical psychology. She also has completed all the requirements to receive her Ed.S in mental health counseling from Old Dominion University. In addition, Mercedes is a resident in counseling and is in the final stages of becoming a licensed professional counselor (LPC). Mercedes currently resides in Chesapeake, VA with her husband and their two daughters.
---
Sergio Rimola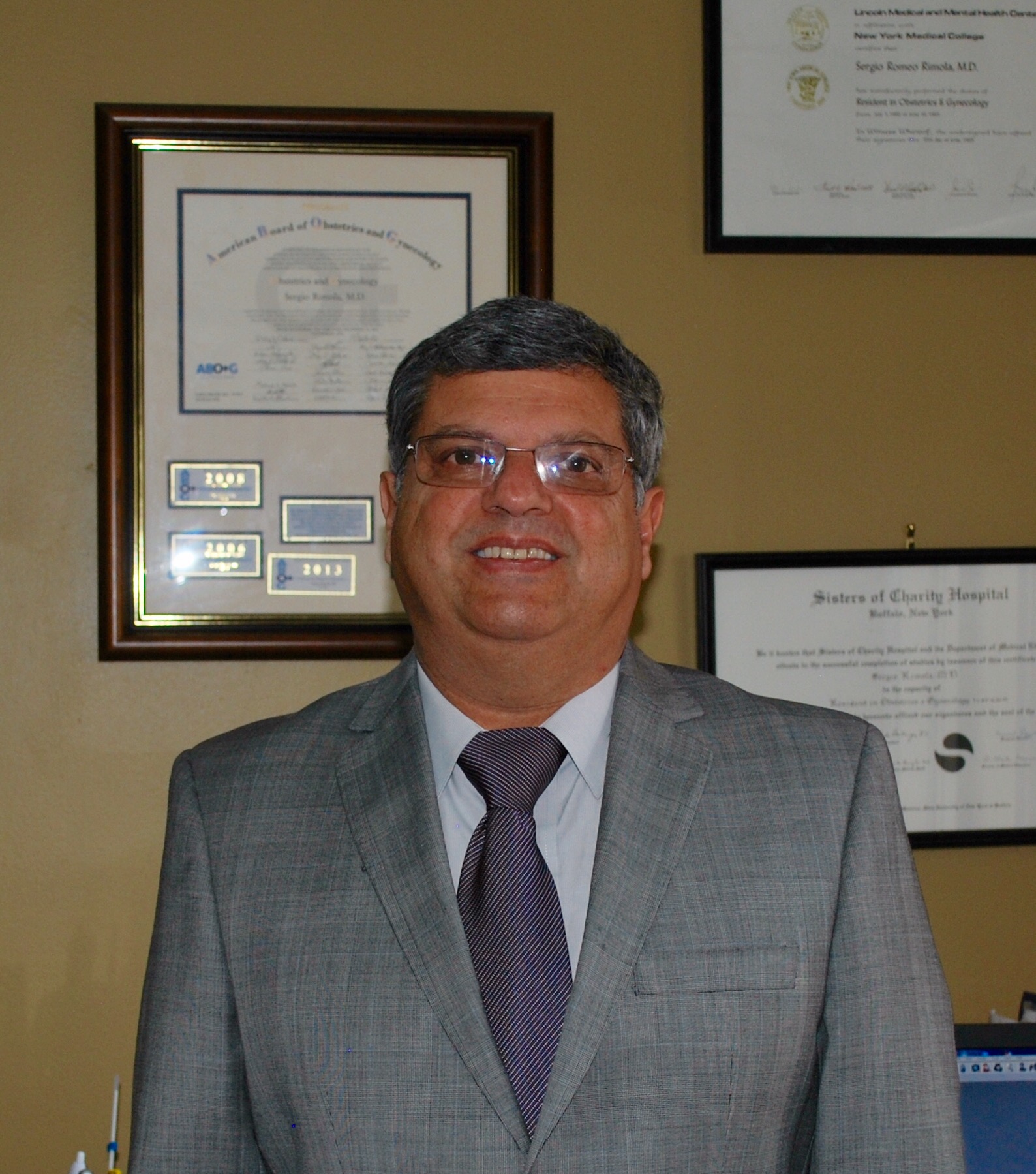 Originally from Guatemala, Sergio migrated to United States in 1985 during the civil war unrest in the Central American Country. He graduated from Medical School at the University of San Carlos in Guatemala and completed a residency program in Obstetrics and Gynecology before migrating to the United States.
Once in the US he learned English and passed the requirements for foreign medical graduates, enrolled and finished a residency program in Obstetrics and Gynecology at Sisters and Charity Hospital affiliated with SUNY at Buffalo. He is a Board certified member of the American Congress of Ob/Gyn. He practiced medicine in Oswego NY before moving to Northern Virginia in 1997 where he has been in private practice in Vienna Virginia through the present time.
He has been an attending Physician at Inova Fairfax Hospital since 1997. He received faculty appointments at GWU and VCU as Associated Clinical Professor of Ob/Gyn, serving as a preceptor and mentor for medical students, residents and nurse practitioners.
He serves in the National Hispanic Medical Association as DC-Metro Region Co-Chairperson; the NHMA mission is to empower Hispanic physicians to lead efforts to improve the health of Hispanics in collaboration with Hispanic state medical societies, residents, and medical students, and other public and private sector partners.
He was appointed by supervisor John Foust to serve in Fairfax County Human Services Council representing the Dranesville District. He is a volunteer physician for the Health Department and non profit Nueva Vida serving uninsured patients. He is Vice President of Task Tarea, a nonprofit dedicated to break the circle of poverty through the power of literacy and education providing scholarship to indigenous girls in the highlands of Guatemala. He is actively involved in the Latino community in health, immigration and environmental issues. He is actively involved in Politics as a volunteer and fundraiser, and was recently elected on the board of the Democratic Latino Organization of Virginia (DLOV) as finance director.
---
Victoria Cartagena
Victoria Cartagena currently resides in Carrollton, VA where she finds joy in arts, culture, activism and community. She currently works for Hampton University where she serves as the Director of the Hispanic and Latino Initiative. Victoria graduated from the University of Florida with a Bachelors Degree in Science and then continued on to earn her Master of Social Work from Virginia Commonwealth University. Her passion for community and activism can be seen through her volunteer work as a Board Member of the Virginia Latino Advisory Board, Chair of the Emerging Entrepreneurs Committee with the Hampton Roads Hispanic Chamber of Commerce, and Official Photographer of G.R.O.W., a 501(c)3 that serves women impacted by domestic violence. Victoria volunteers for community events and charities throughout the year and has also been invited to speak on confidence, spirituality, women empowerment and more. She is currently using her multiple talents to develop programs that promote college and career readiness within the Latino community while also addressing the many barriers that may impact participation in such programs like cultural competence, identity consciousness, accessibility, and finances. Victoria believes in serving the whole student and she plans to develop a unique program at Hampton University that serves the Latino learner.

Interests: Mental Health, Trauma, Creative Therapy, Community Outreach, Program Development, Latinos in Higher Education, Cultural Competence, Diversity and Inclusion, Arts, Music, Social Media Impact, Latino Leadership, Civic Engagement, Education, Workforce Development.
---
Vivian Sanchez-Jones
Vivian Sanchez-Jones was born in San Jose de Ocoa in the Dominican Republic. Vivian attended the Bernard Baruch College of the City University of New York where she received her Bachelor's degree in International Marketing with a major in Spanish Literature. In 1998, Vivian and her family moved to the Dominican Republic to work with Food for the Hungry International doing relief and development work.
After spending four years in the Dominican Republic, the family returned to the United States and settled in Roanoke. Vivian began working with Refugee and Immigration Services, a Program of Commonwealth Catholic Charities, as the school liaison for immigrant children in 2004. As a School and Community liaison she has worked with several hundred Latino families in the Roanoke Valley, helping them navigate the school system and community services.
Since living in Roanoke, Vivian has served on the Roanoke City Multi-Cultural Committee appointed by Mayor Harris, the Virginia Board of Counseling appointed by Governor Kaine, The Latino Task Force Committee, which organized the first Latino Festival in Roanoke, Festival in the Park, Blue Ridge Council of the Boy Scouts of America, The Complete Count Committee for the State of Virginia as well as for the City of Roanoke and The Virginia Tech Carilion School of Medicine diversity board. Vivian also serves as President of Avencemos Roanoke, a community organization assisting Latinos in the Roanoke Valley. She was appointed in 2014 by Governor McAuliffe to serve on the Board of Counseling. In honor of her humanitarian efforts and commitment to the Latino community, Vivian was awarded the Martin Luther King Local Hero Award in 2007 and the Women of Achievement, Equality Award in 2012.
---
Zuraya Tapia-Hadley
Zuraya currently serves as Director of Development for the U.S. Mexico Foundation (USMF). Zuraya was recruited to establish and lead a network of renowned Mexican American leaders and Mexican diaspora communities to engage with Mexican counterparts and support bi-national programs through the USMF Mexican American Leadership Initiative (MALI). As part of the leadership team in Washington, D.C., role has evolved to set and guide outreach, communications, and development strategy. She currently focuses on establishing partnerships between the USMF and leading private sector actors. Prior to joining USMF, Zuraya served as Executive Director of the Hispanic National Bar Association. In addition to her experience leading a national organization, throughout her career she has held positions in national policy and legislative affairs at NDN (a DC-based political think thank), as staff in the U.S. House of Representatives, and she began her career in the international trade law practice at Shaw Pittman LLP. She is a regular commentator in Spanish-language media on policy issues in the U.S. and a panelist on issues regarding immigration and diversity. She obtained the degree of Licenciatura en Derecho from Universidad de las Américas, Puebla and a Master of Laws (LLM) in International Law from Georgetown University Law Center. Zuraya resides in northern Virginia with her husband and two sons and is also very active in local and state politics, supporting candidates.
---